by Conscious Reminder
Countertops are very important kitchen elements. If you ever wanted to have some specific things which will be fantastic and which will bring you positive energies, colored with extremely bright colors too, you should buy yourself gemstone countertops.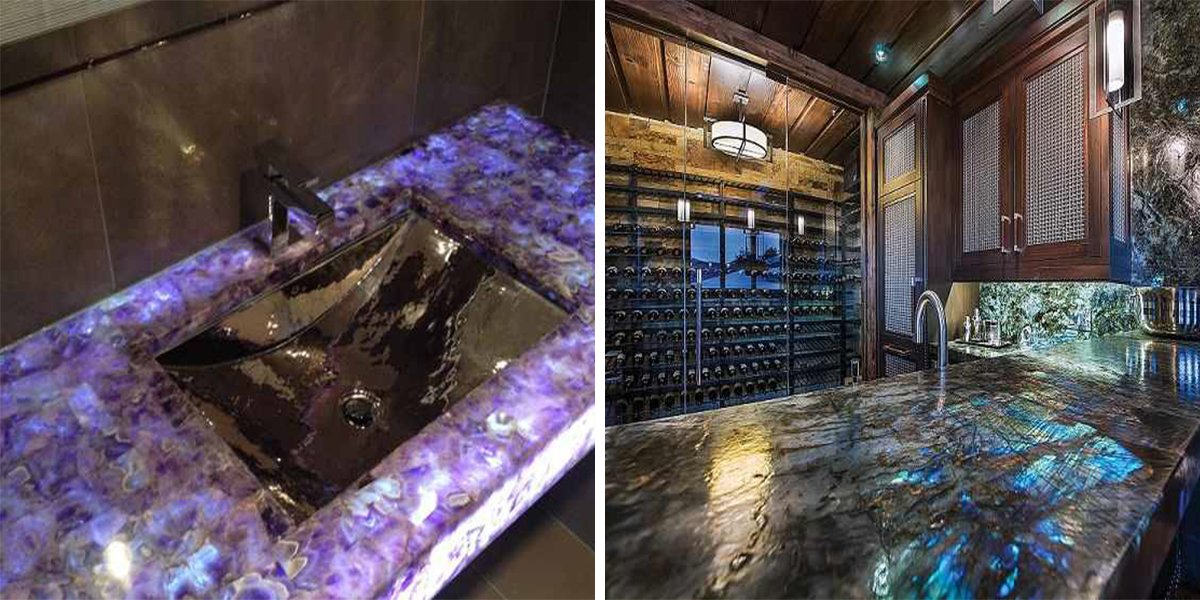 These gemstone countertops are often made of semi-precious crystals or stones, comprised of the Amethyst, Tigers-eye, as well as Hematite.
These gemstones actually undergo a specific technique and process in order to create beautiful mosaic-like nothing else can create. Counters are also heat resistant, and they look breathtaking and marvelous. They may also be cleaned very easily.
Amethyst
The Amethyst is undoubtedly the most fabulous and luxurious kitchen countertop which a person may choose. They can be found easily, and they are not that expensive as a lot of people would think it is. Its slabs actually give some dazzling and intense light, rich violet color and purple tone. All these things are going to stir your imagination because of their inexplicable crystal or stone quality.
Moreover, what also makes this countertop so special and unique is its capacity to complement every surrounding in your kitchen as of the bright violet tones within it. It is also working with traditional or contemporary designs of kitchens.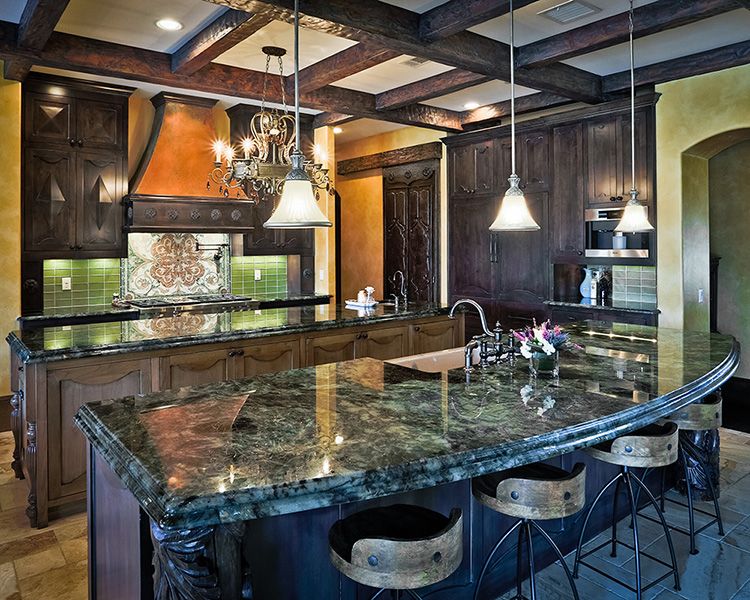 Quartz
Its luster and strengths will make your kitchen quite an elegant option if you admire the attractive nature of such stones. The surface of the quartz is quite tough, as well as hard. Moreover, it is non-porous, as it can resist the strongest spills, and it is smooth too. The quartz kitchen countertop has the ability to retain the luster for a lot of years, without using sealants or waxes.
The quartz also has the style of a chameleon. There are different choices, modern or traditional, apple green or ecru, refined or honed, patterned or speckled – many of the different options. It may also work beautifully with some traditional materials for design such as stainless steel, wood, tile, chrome and so on.
Labradorite (Peacock blue)
The natural stones look sophisticated, as well as contemporary. They have the ability to transform kitchens as nothing else can. They will give it durability and elegance too.
As you can see in this picture, the wood cabinetry, which is dark-colored, is actually in tune with this labradorite kitchen countertop. Here, the accent is put on the white upholstery off the floor, as well as the chairs that contrast this kitchen countertop. The lighting which is also adequate for such stones will make the countertop glow too.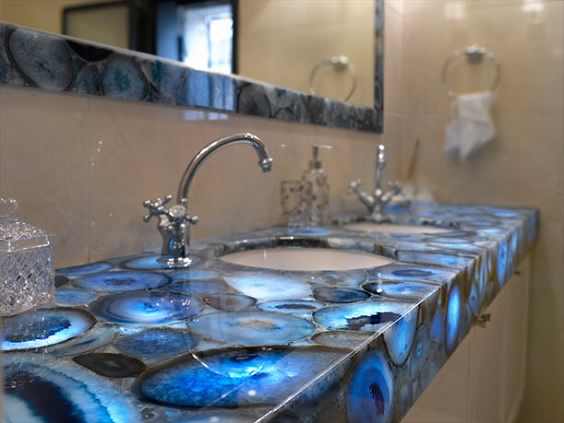 Petrified wood
The main component of this type of material is fossilized trees. The petrified wood is not comprised of the identical two pieces. That is what gives it an exotic and lustrous appearance. Also, it is amazingly hard and durable. Its slabs may reflect fossils which are two hundred million years old. Its brown shades may project beauty, strength, and grace. This countertop is also going to attribute to an excellent look of all those different types of decorated and designed kitchen.
Moreover, it will be incredibly beautiful in some other rooms, not only in your kitchen, because of its hardness.
Now, you can follow Conscious Reminder on INSTAGRAM!
---
∼If you like our article, give Conscious Reminder a thumbs up, and help us spread LOVE & LIGHT!∼