Over the centuries many books have been written claiming that loyal readers and followers of the text will be bestowed with magical powers. In some cases these books are intended to invoke demons or angels. In other cases they promise to allow the reader enhanced skills or good luck.
"…THE NOTORY ART REVEALED BY THE MOST HIGH CREATOR TO SOLOMON. IN THE NAME OF THE HOLY AND UNDIVIDED TRINITY, BEGINNETH THIS MOST HOLY ART OF KNOWLEDGE, REVEALED TO SOLOMON, WHICH THE MOST HIGH CREATOR BY HIS HOLY ANGELS MINISTERED TO SOLOMON UPON THE ALTER OF THE TEMPLE; THAT THEREBY IN SHORT TIME HE KNEW ALL ARTS AND SCIENCES, BOTH LIBERAL AND MECHANICK, WITH ALL THE FACULTIES AND PROPERTIES THEREOF: HE HAS SUDDENLY INFUSED INTO HIM, AND ALSO WAS FILLED WITH ALL WISDOM, TO UTTER THE SACRED MYSTERIES OF MOST HOLY WORDS…" – THE NOTORY ART OF SOLOMON.
While the concepts of magic and demonology remained controversial through history, many such books were translated and compiled over time, extending their reach throughout several centuries. One of these books is the Ars Notoria .
The Ars Notoria is one of five books within a grimoire called the Lesser Keys of Solomon , or Clavicula Salomonis Regis . A grimoire is a textbook of occult knowledge which is meant to grant the reader the ability to cast spells, create talismans, invoke spirits, invoke demons, and perform divination. The Lesser Keys of Solomon is an anonymous grimoire that was compiled from other works in the 17th century, and focuses on demonology. The five books contained within the Lesser Keys of Solomon are the Ars Goetia , the Ars Theurgia-Goetia , the Ars Paulina , the Ars Almadel , and the Ars Notoria .
Do you believe that there are ancient texts that help understand how humans function? Several sciences are known for avoiding many parts they cannot comprehend or explain, is it possible that this is one of them? Innumerable ancient books have been written in the past promising otherworldly powers to those who welcome its knowledge. People in the past firmly believed that ancient scripts offered magical powers and ways of altering the consciousness of those who read it.
But from where does this mysterious knowledge come from? In the distant past, not many people knew how to read, or interpret ancient (sacred) writings, which could have inherently, categorized some texts as mysterious and powerful.
---

"And know this; that if thou hast not the books in thy hands, or the faculty of looking into them is not given to thee; the effect of this work will not be the lesse therefore: but the Orations are twice then to be pronounced, where they were to be but once: And as to the knowledge of a vision, and the other virtues which these Holy Orations have; thou maist prove and try them, when and how thou wilt." –Ars Notoria The Notory Art of Solomon.

---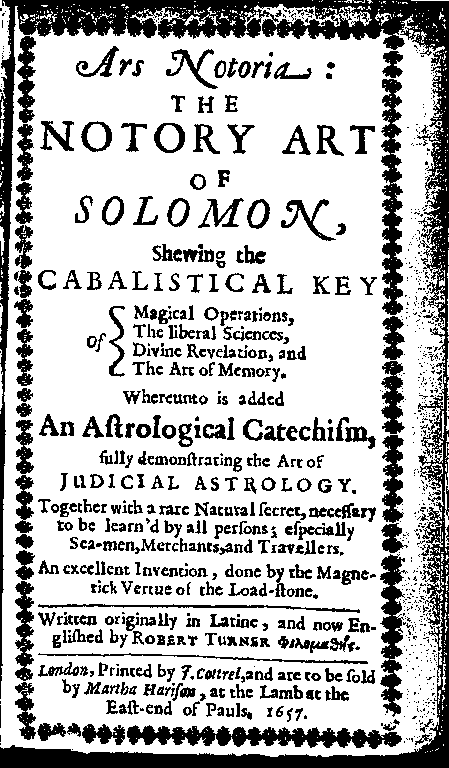 In the famous grimoire —a textbook of magic, with instructions on how to create magical objects like talismans and amulets and perform magical spells—called Lesser Key of Solomon, there is an ancient text called the Ars Notoria, or the Notory Art of Solomon. This ancient text can be traced back to the thirteenth century while some parts were written as early as the twelfth century.
Inside the ancient texts, there is a communication trick many readers will find beyond fascinating. Referred to as the 'magnetic experiment', it details how to accurately use lodestone and to compass' in order to communicate throughout great distances. It is believed that if the two needles were rubbed against the exact lodestone, the needles would eventually become 'entangled' with each other. Consequently, if one needle moves, so would the other needle.
Furthermore, if one placed the needles in the center of a circle of letters and images, two persons could communicate across great distances by spelling out words.
Interestingly, the ancient text contains many ideas and notions that are considered to be way ahead of their time.
However, given the available information, it is difficult to conclude whether or not such ancient texts were real and had any powers associated with it. Taking in count that in the distant past literacy was extremely low, it was easy to manipulate people making them believe something (like an ancient book) has magical powers associated with it.
You can download a copy, translated from Latin into English by Robert Turner, 1657 here. (Transcribed and converted to Acrobat by Benjamin Rowe, July 1999 Foreword copyright 1999 by Benjamin Rowe).
---
∼If you like our article, give Conscious Reminder a thumbs up, and help us spread LOVE & LIGHT!∼