by Adil Riaz,
Contributing Author, Conscious Reminder
It's true – when we think about long distance relationships, there are a ton of negative thoughts that start circulating our mind.
In fact, surviving long distance relationship is not very easy.
You need to have a whole lot of patience, commitment and optimism if you want to survive or more importantly thrive your long distance relationship.
But here's the deal:
If you want to survive your long distance relationship, a continuous effort is a must.
And in this guide, I'm going to tell you exactly how to make a long distance relationship work.
Let's dive right in.
Chapter 1
Do Long Distance Relationships Work?
When talking about long distance relationships, you usually don't expect anyone to say something positive or comforting about this topic.
These doom-mongers are unable to think outside of their small minds and predict that LDR doesn't ever work.
Are they always right? – NO!
Quick story:
I recall I was once being told a story about two sisters who visited a monk. They were completely opposite in terms of emotions. One was happy with her husband and the other was sad about being single.
The monk told them that if they exchange what they already have with what they want, they will be suffering from a different set of issues.
The bottom line?
Instead of focusing on the negatives, try to relish the positives of your situation. This is the exact same principle that will help you survive your long distance relationship.
Before starting a long distance relationship, have a look at these 3 most common negative thoughts that can be turned around into something positive.
1. The Communication Factor
This is the first thing that most people get wrong about long distance relationships.
It is never difficult to communicate with your partner nowadays.
Whether your partner is living in the same country as you or out of the country or even at a different continent, modern technology has always made it easier to communicate with your loved one.
There are several means that help you communicate better with your partner. Emails, Social Media, International Telephonic Calls, Webcams etc. have always favored long distance relationships.
You can read more about the most useful long distance relationship gadgets that will help you communicate with your partner efficiently later in this guide.
Hence, "snail-mail" is definitely a thing of the past.
2. The Trust Factor
There's no doubt:
But the trust factor is always a cause of worry in a long distance relationship.
You are constantly afraid of them seeing someone else behind your back. Whether someone else tells you this or you think about it yourself, it's always a cause of stress.
But keep this in mind:
When you look at the bright side of this, you will know that if you can get over your issues of mistrust, it's a relationship that is worth keeping.
Hence, dealing with all these negative emotions positively will definitely make your relationship stronger.
3. The Passion Factor
People usually think, due to very limited physical contact, your passion slowly dies out.
You forget what does it feels like to be with the one you love. However, that is not true.
There are a number of sensual things you can do with your partner even if they are far away.
From naughty long distance relationship games to use of LDR gadgets, there are several ways you can keep this passion alive.
You can learn more about the LDR games later in this post.
Look at the bright side:
Due to the limited time of intimacy, every time you will be together will seem as fresh and intimate as the first time.
Chapter 2
Common Long Distance Relationships Problems
On the other hand, it is important to know that sometimes long distance relationships don't work.
The hardest part of a long distance relationship is the relationship itself. There can be many reasons you might have to end it.
Other than there being a massive geographical distance between two lovers, there are a lot of other problems that long-distance lovers face.
And these problems are a result of mistakes that one or both partners make.
Here's the list of top 5 mistakes because of which long distance relationships don't work every time.
1. The Time-Zone Difference
There is a different time-zone for different countries. For some, the difference is just a few hours but for others, it is as long as 12 hours.
Consider this – If you want to ask your partner how was their day after they get back home from work, then you have to wake up in the middle of the night and compromise your sleep.
This can result in productivity loss and you might not be able to function properly next day.
Therefore, it becomes difficult to give proper time to your partner when they need you.
There are two things you can do about it:
>> Use technology – Leave voicemails and video messages for them.
>> Tell your partner what activities are important to you and see if they can compromise.
Like any other relationship, long distance relationship involves compromises too. The most important compromise one has to make in a long distance relationship is about time.
Hence, compromise is always better than blaming the time-gap on each other.
2. Not Being Able To Understand Each Other
This is a mistake that can make your long distance relationship vulnerable.
Because – when you are pretending everything is fine when it's actually not, there's no way your partner can identify it until you speak up.
Since you are behind a computer screen, your partner is unable to look into your eyes and tell something is wrong.
Look:
If there is something you want to talk about with your significant other, then just do it.
Your partner will be understanding enough to help you deal with your worries.
They will not be able to hug you but their empathetic listening will make you feel better in no time.
3. Dishonesty With Your Partner
Not telling your partner exactly what is going on in your life is a mistake that can be fatal for your relationship.
It is often referred to as a grey area in long distance relationships.
Always Remember:
Honesty and trust are the pillars on which foundations of LDRs rest.
It's important to keep these pillars strong by letting them know who are you with, where are you going and what are your plans, especially in a night out.
If you can't trust your intentions, then it's better not to go out at all.
"Long-distance relationships require the ultimate level of commitment" – Bestselling Author and Relationship Expert, Susan Winter
4. Comparison with Typical Relationships
Distance means nothing when your relationship is loving and healthy.
Not all the relationships are perfect. Every relationship has a weakness and in your case, it's the distance.
What's the bottom line?
Even if you don't get to have a goodbye kiss when you leave for work, doesn't mean your relationship is not as good as others.
Do not let the milestones of typical relationship make you think that your relationship is a fail.
5. Letting People Decide the Fate of Your Long Distance Relationship
Listening to the people who have never been into a long distance relationship is insanity.
Sure, LDRs are not for everyone and it can be a tough pill to swallow.
But if you and your partner are happy how the things are going, then your relationship actually is healthy.
Here's the kicker:
Getting motivation from all the bad stuff that people say about long distance relationships is the best way to make your relationship work.
Keep fighting for your relationship until you prove all of them wrong. After all its an ultimate test of love, patience and trust that most couples fail to pass.
Hence, do not give up and keep fighting for your long distance relationship.
Chapter 3
Best Long Distance Relationships Tips
According to these long distance relationship statistics, 14 million couple in the U.S considers themselves in LDR.
Being apart from your loved one is probably the hardest thing in life.
But even if you are miles apart, that doesn't mean you cannot strengthen your bond.
To help the cause there are these most useful long distance relationship tips coming straight from the experts.
1. Make the Communication Meaningful and Stronger
First of all, not being in a long distance relationship does not mean you will spend each and every moment of your life together.
Let's face it:
If you are thinking those heartfelt and soul-searching conversations are only possible when you are close to each other, then you can't be any wrong.
Spending time together does not mean you will always spend it communicating.
Most of the time will be filled with movies and other distractions not by quality conversations.
Remember – By definition, talking on the phone is the time for only talking. So why not use it for quality one to one conversations and exploring the interests of each other.
2. Plan Your Future Together
While you are having those deep conversations with your partner on phone, why not talk about your future plans with each other.
Of course, being in a long distance relationship will not allow you to have those moving in together and settling down talks.
But this does not stop you from planning what you want as a couple in future.
Planning ahead is a key to a successful relationship. Plan for a brighter future to make your love life positive and inspiring.
This will definitely save your time, decision making and arguments as well as make your bond much stronger.
"You need to set a time limit on how long you're willing to be apart. Successful people make plans for what they want to achieve, and a relationship plan is no different." – Human Behaviour Expert, Dr. Wendy Walsh
3. Be Appreciative of Each Other
Sometimes it becomes easy to overlook simple things that your partner do for you.
It might be the time they give you or how well they comfort you.
You start to take things for granted and things you loved about them once, are pushed to the back of your brain.
In this scenario, things can get bitter in no time.
So it makes you responsible to keep the spark alive in your relationship.
After all, it's you who has forgotten about those features of your partner that made them unique from the rest. They are the same person and all those special qualities are still there!
Hence learning to appreciate those features which made you choose to spend your life with them can make your relationship long-lasting.
4. Don't Let Jealousy Ruin Your Relationship
As said earlier, trust is one of the pillars on which LDR stands.
Being unfamiliar with their friends and the environment they live in will make the jealousy and mistrust creep into your mind very easily.
Now:
It's important to understand the fact that letting your partner have fun will make time easy for them to spend apart from you.
If you are having insecurities, step back from your mobile and learn to let them have fun. Ask all those questions later.
Look:
Being obsessed with them will only make things worse because you will end up overthinking everything and creating all sorts of nonsense stories in your head like these.
5. Dissolve Disputes as Quickly As Possible 
Arguments will always happen whether you are in a long distance relationship or a normal relationship.
The more important thing is that how quickly one can resolve these disagreements.
Because if you think clearly, arguments are really just a waste of your precious time.
Arguing is usually a waste of time and it is even more destructive in LDRs because of limited communication.
It's not worth it to spend time fighting about an issue which isn't that important.
Here's the deal:
You can always talk about that issue later when you both have calmed down.
The quicker you can remind yourself that you cannot be always right, the quicker you will learn to dissolve disputes.
Bonus Tips:
>> Make regular visits
>> Keep the relationship honest
>> Don't forget to be dirty
>> Develop the "We" mentality
>> Get out of "Distance-is-a-bad-thing" psyche
Chapter 4
Creative Long Distance Relationship Ideas
I'm not going to lie to you… 
Keeping a long distance relationship is not easy.
The fact that you are forced to spend time apart from the person you really want to be with, is depressing.
People in a long distance relationship usually miss their loved one more than the people who are sure that they will meet their partner in a couple of days.
Sure, a phone call before going to the bed will make thing somewhat easier for you but what about all the new gadgets and apps that will make your LDR so much easier.
Utilizing these LDR ideas will help you facilitate hardship of a long distance relationship
1. Apps For Watching Movies Together
Guess what:
You don't have to buy an airplane ticket to watch a movie with your loved one.
Since there are so many apps that allow you to connect with your partner and watch movie simultaneously.
There's more: If you want to video chat with your partner during the movie, there's an option for it too.
There are so many apps that serve this purpose. The best ones are:
>> LetsGaze.com
>> Watch2Gether.com
>> Rabb.it
2. The Couple App
It's an app that is completely built for lovers.
It has numerous features that a couple can utilize to make their days much more fun.
For romantic couples, it's an ideal choice since it allows both of you to exchange messages, photos, videos, stickers etc.
What's more?
It allows you to set up a dual calendar which is useful to keep track of your date nights. A bucket list and a to-do-list feature.
Moreover, there is a thumb kiss feature which makes your phone vibrate when both of you place your thumb on the same spot on the screen.
Some similar apps are:
>> Between
>> Avocado
>> WhereAreYou App
3. The Pillow Talk
If you want to have a feel of your partner lying next to you then these long distance pillows are just about right for you.
These are basically a pair of pillows that starts glowing when the other person is lying on it. Furthermore, with the help of a hand-band you can actually listen to their heartbeat.
This amazing invention is important when you rest during the evening, you'll know your sweetheart is sleeping if your pillow has turned on.
4. A Couple Journal
Talking to your significant-other whole day by one mean or the other doesn't mean you will end up telling them everything.
Especially your small daily routine stuff.
In this scenario, a couple's journal comes in handy. You can write down small things in it, your thoughts, your ideas or anything you would love them to know.
Do it for a week and then exchange the journals and read each other's entries and keep this process going.
This practice will remarkably improve your intimacy.
5. Send Sweet Gifts To Your Sweetheart
Being far from your partner on a long haul premise can be baffling in practically every way that could be possible.
That is why long distance relationship gifts were invented to make things easy and sweet.
One of the great ways to show your partner that you are thinking about them is to mail them a gift.
You'll love this post: 6 Month Anniversary: Six Creative Ideas and Heart Warming Quotes For Her!
There are many naughty yet sweet long distance relationship gift ideas that you can send to your partner but the best ones are listed below.
Long Distance Relationships Gifts
1. A Map In A Heart
This gift is undoubtedly a super-cute gift.
It's basically a framed picture containing two maps cut out in a heart shape. One map being of your city and the other being of your lover's city.
Then you can connect these hearts in another heart-shaped line. As you can see in this picture.
Moreover, you can put your names and the year you started dating underneath. Along with some lovely long distance relationship quotes that define your relationship.
Your soulmate will definitely love the fact that you made this cute gift yourself especially for them.
2. Matching Things
For couples, matching stuff is always a delight whether it is a long distance relationship or not.
You and your lover can have a matching pair of shirts, mugs or even pillows.
These things come with loveable designs. You can have it "His and Hers" printed on them.
Moreover, you can have maps of your cities printed on them as well.
It's absolutely adorable to think that you and your lover sleep on matching pillows and have your day started having coffee in matching mugs.
3. Jewelry for Long Distance Lovers
Jewelry will always remain one of the best gifts you can give to your lover.
But if you are in a long distance relationship, you can have it customized according to your desire.
Etsy does a great job by tying together the coordinates of both of your locations into an amazing wrist-cuffs and bracelets.
Another fabulous piece of jewelry for your long distance lover can be a duel timed wrist-watch. It will show you your local-time as well as their time zone. That way you'll exactly know when it's a proper time to text them.
4. Care Boxes
Everyone loves getting a mail so does your lover. You can send your significant other care packages to express your love.
Here are a few creative ideas of LDR care packages to send to your soulmate.
>> The Kiss Box
If you want to send a kiss to your love everyday then sending them a bag of bag of Hershey Kisses with a cute love note is a super adorable way to do it.
>> The Movie Box
This one is best for the movie night. Send them a box having microwave popcorns, movie snacks, candies and a USB containing movie for your movie night. Once they get this, sync your movies and enjoy your surprising movie night.
>> The Baking Box
If you have good baking skills then why keep your long distance lover unaware of that? Send him well-sealed baked goods. He will love your creativity as well as your baking talent.
>> The Color Box
This is the perfect box to surprise your partner. Simply select a color, put candies, snacks, t-shirt in the box as well as a picture of you in lingerie. All of this in that particular color. Then wrap the box with that color gift paper and send him with a lovely note.
5. The 'Open When Letters'
These letters are a series of letters for your partner to open at a particular time. These letters are amazingly adorable to send it to your long distance lover.
>> Open when.. it's the winter's first day
This package can include gifts like pair of gloves, socks, scarf or a lovely sweater along with a matching mug. Also include a note telling them how would you want to spend your winter with each other. A cute drawing of you and your lover with a snowman would be a nice addition to the gift.
>> Open when.. you're missing me
It's a lovely letter full of all your memories together and telling them how much you miss them. You can send the letter with the spritz of your perfume and for ladies, your lipstick mark can get the job done.
>> Open when.. you're mad at me
A pre-written letter by you of apologizing them and telling them you never want to hurt them is a great idea. You can include a chocolate and a cute picture of both of you kissing with the letter. If this cute letter cannot melt their heart, then nothing can.
These long distance relationship ideas does not end here. In fact there a lot of naughty games you can play to keep the sizzle alive in your long distance relationship.
Naughty Long Distance Relationship Games
1. Text Tease
This one is like photo tease but through texts.
Let me explain.
Compose a long sexual message with all your intimate fantasies and desires about your partner.
Then instead of sending it as a whole, send it in different parts.
Like sending the one-fourth of it through any social media app like Facebook or Twitter. The next part through messaging apps like WhatsApp.
Continue sending these parts and bits of your messages until they have the whole message. It's another unique way of enticing your lover.
2. Photo Tease
Sending random photos of your body parts in an intimate way is another way of exciting your other half.
The best thing about photos is that you can send it in any way you want.
Let your partner guess what body part is it and if he guesses correctly, he deserves the prize of sexy photos of you.
3. Watch Movies Together
This is similar to regular movie night but instead the movie you will be watching would be R-Rated or completely adult.
This will take your intimacy to the whole new level. When you both are aroused you can try different thing such as…
4. Intimate Video Calls
Sexting is an important part of a long distance relationship.
To keep the spark alive, you have to try different things.
In this era of modern technology, you can easily have video calls and to make things sexier you can do it without your clothes on.
This will keep your lover waiting for whatever length of time that he or she can until the point when you see each other.
5. Play for Sexual Prize
You can play any game you want such as monopoly, scrabble or any other two-player game through gaming applications.
All you have to do this is remember the winner of these games and when you and your lover finally meet, the winner can ask for any sexual prize they want.
These naughty long distance relationship activities will reignite the lost spark in your relationship.
Chapter 5
Epic Long Distance Relationship Resources
When you are missing a person who is hundreds of miles away from you then it becomes difficult to live in that moment.
It sucks to be separated by geography and time-zone from the person you love the most.
However, there are certain things you can do to uplift your spirits and make those huge distances feel smaller.
Long Distance Relationship Songs
Undoubtedly, music has such a significant impact on the human soul.
Regardless of whether we're upset, cheerful, forlorn or missing somebody, there's dependably a song out there that portrays precisely how we feel.
Same is the case for long distance relationships.
Music is something that can unite you, keeping the fire of affection alive even through separation.
Here are the best long distance relationship songs that can improve the way you feel and make your bond more grounded.
Lyrics Source: https://www.azlyrics.com
Long Distance Relationship Movies
Watching movies is an extraordinary method to bond with your long distance relationship.
It doesn't matter you are hundreds or thousands of miles apart, watching movies together will make you feel like you are at the same place as them right next to each other.
If you are confused what to watch on your movie night, here is the list of best 10 long distance relationship movies that you and your partner will love!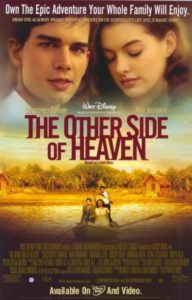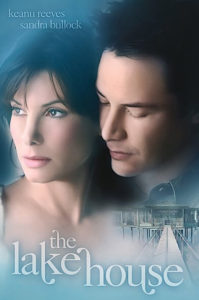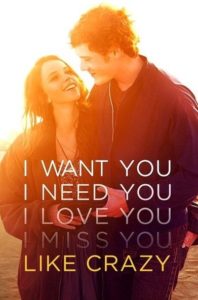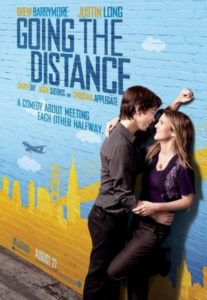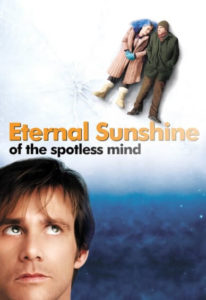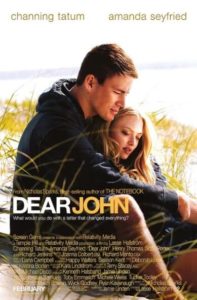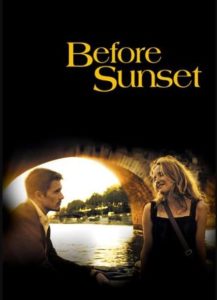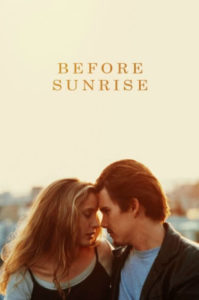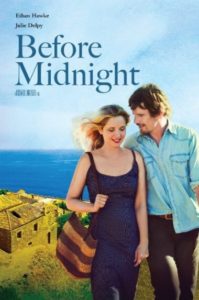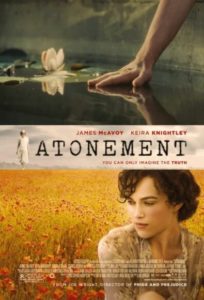 Long Distance Relationship Quotes
If you are wondering why long distance relationships quotes are necessary?
Then the answer is quite simple.
Sometimes, you have to justify yourself that this relationship is worth keeping.
This is the truth about long distance relationships: 
Long distance relationships help you to grow stronger and consistent as a person. No matter how difficult things get, you always find a way to fulfill your commitment.
You realize that the power of your love can overcome all the obstacles in your relationship.
So reading quotes from those who have been in the same place as you, can be really motivating.
Here are the best 10 relationship quotes that embody the scope of feelings that absence can create in a relationship. You can also send these quotes to your love as long distance relationships text messages.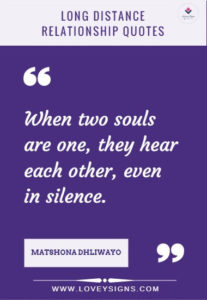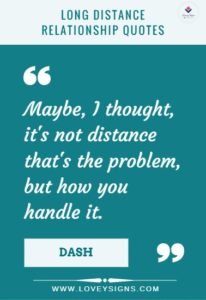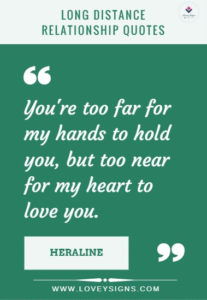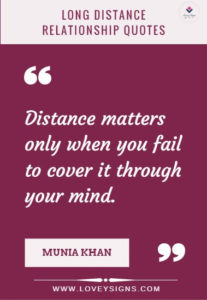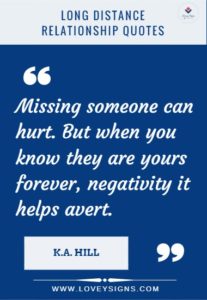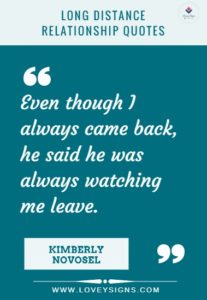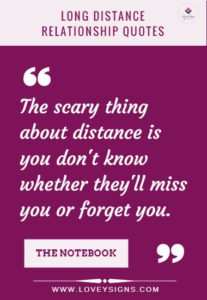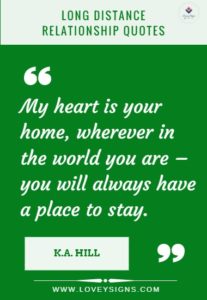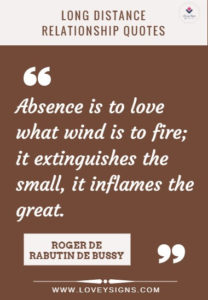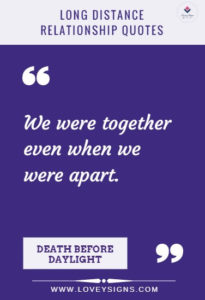 Quotes Source: https://www.goodreads.com
Final Thoughts – Can Your Long Distance Relationship Work?
"I call long distance situations "Honeymoon Relationships" because they are always great! You don't have the stress of daily lives and when you see one another it's like the first date all over again. The key is to be clear about your intentions and expectations around a long distance relationship. Perhaps it's just what the doctor ordered because a full "local" partner might be too much or too soon in your life. But if you are looking for a long term partnership it will take a lot of work, concessions and compromise to get there. Communication is key!" – Dating & Makeover Expert, Kimberly Seltzer
This was all you needed to know about long distance relationships.
Now I want to turn it over to you: 
How are you going to improve your long distance relationship?
Can you trust your partner? Are you ready to grow apart? Still think long distance love is worth the effort?
Take this long distance relationship test now and share your results.
Let me know if you're willing to take a chance on true love and want to try and survive a long distance love by leaving a quick comment below right now.
---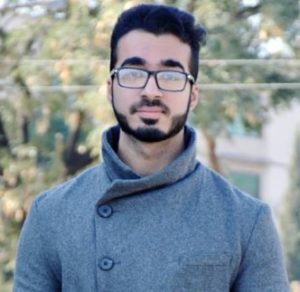 About the Author: This article was originally published on LoveySigns.com by Adil Riaz. Adil is a life-style writer, music-lover and a Sagittarius. He loves writing about dating hacks, relationship tips and love advice. You can follow more of his work at http://loveysigns.com which is a website that provides the best relationship, dating and marriage advice in the lights of established experts to guide you to a better Love Life.
---
∼If you like our article, give Conscious Reminder a thumbs up, and help us spread LOVE & LIGHT!∼