by Conscious Reminder
For a long time, Native Americans used dream catchers like a way of preventing some nightmares, as well as guaranteeing just some good and beautiful dream results to the dreamer.
In fact, dream catcher can come in different shapes, designs, and sizes, and each of them reveals some specific things about the person that uses it. Here, we have five types of dream catchers, so your preference will reveal something about your traits and personality.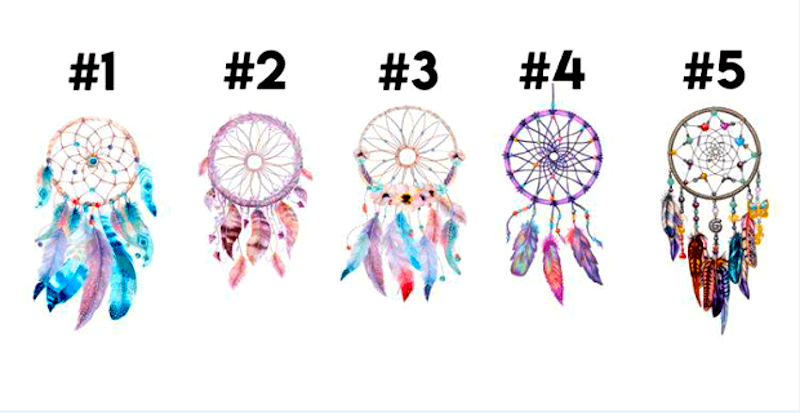 First dream catcher:
Picking the first dream catcher will mean that you are an honest and dependable friend. You also find it quite easy to trust others blindly soon after you get to know those people better.
Also, you have the expectation of others having total faith in you. Sometimes, the emotions inside you will get the best self of you, especially when there is something which disturbs your everyday routine.
Second dream catcher:
If you choose the second dream catcher, it is a sign of cleanliness and innocence.
You don't like the act of keeping hate in life, so you better like to pay attention on some specific things, as well as loved people.  When some things go away from the line, in fact, you will often isolate from it because of your empathic side for perfection and harmony.
Third dream catcher:
In fact, you are a person that is an optimistic and positive extrovert. Actually, you don't feel any stress when you are about to accept others without having extreme judges for them.
Despite that, you are afraid of the judgments from other people, and you also spend more time when it comes to preparing yourself for some decisions.
Fourth dream catcher:
Actually, you are a person that is quite supportive, sympathetic, as well as subtle, and you tend to put other people in the first place.
Because of the compassion within you, the words, as well as the actions of other people will hurt you very often then they should.
Fifth dream catcher:
Choosing the fifth dream catcher will mean that you are a determined, detached, and independent person.
When you made up the mind for a certain thing, there will be no talking and persuading from the ones you love which will change that decision.
Positively, this is going to help you overcome worrywarts and pessimism. However, negatively, you will have the tendency to scare other people and refuse good pieces of advice which come in front of you.
Now, you can follow Conscious Reminder on INSTAGRAM!
---
∼If you like our article, give Conscious Reminder a thumbs up, and help us spread LOVE & LIGHT!∼