by Conscious Reminder
In what is probably the one kind of battle which is benefitting everyone, states in India are fighting to break the Guinness World Record for reforestation.
Their projects are mind-boggling and awe-inspiring. Three years ago in 2016, in Uttar Pradesh alone, a million people got together to plant fifty million saplings over the course of just a day.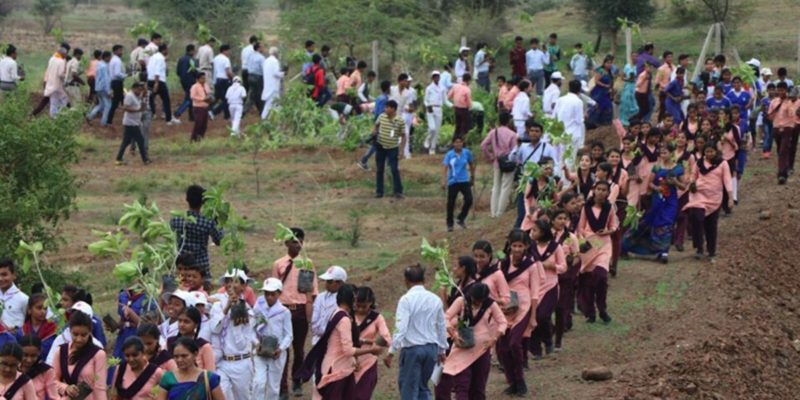 Then in 2017, Madhya Pradesh decided to beat this record by getting one and a half million participants to plant more than sixty-five million trees in just half a day near the Narmada river.
According to Shivraj Singh Chouhan, the then Chief Minister of the state, the original plan had been to plant trees on the banks of the river itself but they soon realized that there was not enough space for so many trees.
Therefore planting was done in the catchment areas. This is the state's contribution to the struggle against climate change and global warming.
All of this started when India agreed to ensure that forest cover would go up by 235 million acres by the end of the next decade at the Paris Climate Conference.
This effort to make India a greener country has received billions of dollars worth of funding. Large scale reforestation has been conducted to spread the news of the scheme. And clearly, India has been fulfilling her promise.
Speaking to India.com, Chouhan also expressed his gratitude to all the volunteers who'd taken time and effort to plant trees.
Besides Uttar Pradesh and Madhya Pradesh, Kerala has also conducted a mass planting event in which ten million trees were planted in a day. The state of Maharashtra is organizing a similar activity with the aim of planting 40 million trees.
The massive support they've received from the people took these governments by surprise. By doing this, they aim to prevent the negative impact of climate change.
Planting trees also ensures that the air we breathe is cleaner since they absorb carbon dioxide. Polluted air is a huge problem in India and the pollution in Indian cities has even broken world records.
And the states haven't stopped with just planting! By using aerial photography equipment, they are constantly monitoring the health of the trees.
All these schemes also contain an inbuilt maintenance plan to keep the trees from dying. India's work has proved that by working as a team, there are no limits to what we can accomplish.
But as individuals, we can contribute in some ways. A Canadian man called Ken Chaplin has planted over fifteen thousand red pine saplings in just 24 hours and is now the proud holder of the Guinness World Record for the maximum trees planted in 24 hours by one person. By his own records, only about ten percent of those trees were unable to survive.
However, there's still a lot we can do. We might be planting millions but we're also cutting down billions.
We all need to take part in this effort to create a greener and cleaner planet. Imagine how wonderful it would be if each person on the planet could plant just one tree in 24 hours?
That's one record which would be very difficult to break. And while we wait for this to happen, we can go out and plant trees on our own every day!
Now, you can follow Conscious Reminder on INSTAGRAM!
---
∼If you like our article, give Conscious Reminder a thumbs up, and help us spread LOVE & LIGHT!∼