by Conscious Reminder
Animals have been a significant part of circuses all around the world. In fact, they are the reason kids all around the globe even want to go to circuses. But it's not all as happy as it looks.
Ringmasters and trainers have a history of abusing these innocent animals in a bid to get their money's worth. The cruel treatment meted out to them has caused an uproar in many parts of the modern world. So, in an attempt to restore the fading circus industry, Circus Roncalli took a unique step.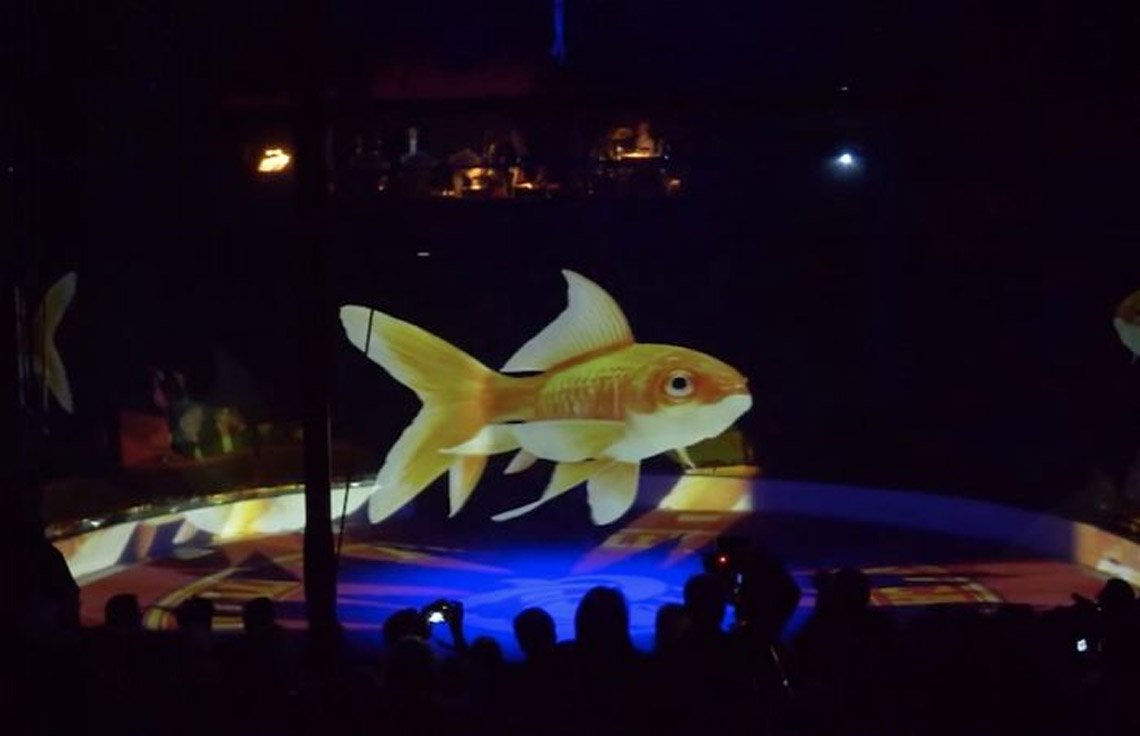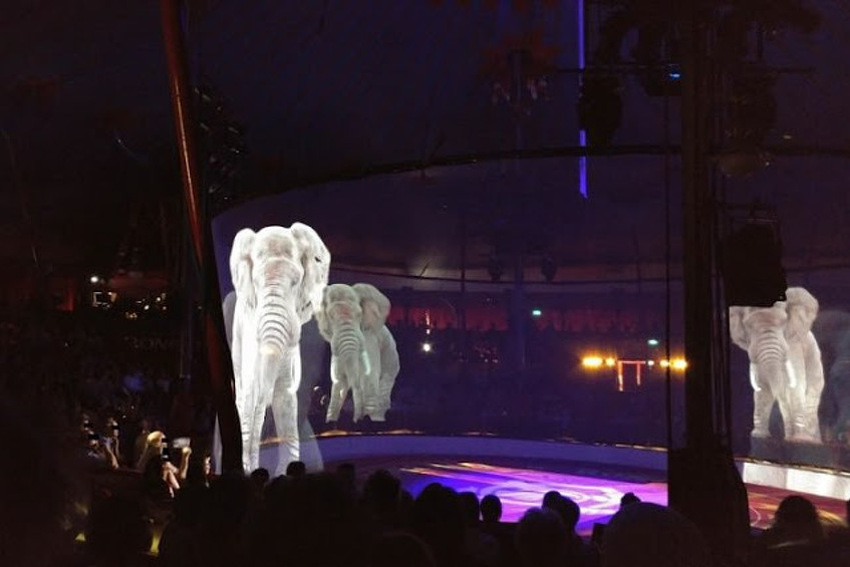 Circus Roncalli has been a crowd favorite since the 1970s but recently they presented something completely unheard of. A circus full of animal holograms! Be it elephants, horses or other circus-favorites, they are present.
But only as 300° holographic images. Using projectors, the technicians were able to fill the circus tent with a view the audience won't forget any time soon. Bernhard Paul was behind this whole idea- the founder and director of the circus.
Here is an interview with the man behind the Roncalli circus:
Horses and dogs were part of your shows for many years. Don't you miss them? 
Times changed also Opinions change. Transporting animals on congested/full highways is an anachronism and not necessary. In Begin of 2016 I had the wish to show animals in the circus in a poetic and modern way. Together with "La Fiesta Escenica" from Spain I did show already different animals as puppets and costumes. For example Polarbears. I saw the Superbowl from America. And Justin Timberlake was singing with Prince. But he did pass away. I was so impressed from the holographic technic. So I wanted to have It round. In Begin 2017 I hired a new CDO (Chief Digital Officer). Markus Strobl became the CDO and CCO (Chief Communication officer). He did lead now on together with me the Project. In March 2018 was the Premier of the 300° Holographie in the Circus. It was the Premier day of the new Tourshow "Storyteller" in Cologne in Germany.
Why did you actually decide to stop with real Animals?
Roncalli's Focus from the beginning was on Clowns , acrobats and poets acts. More the 30 Years just horse was used on the show. But in the last years Roncalli did change his Routing Concept to play only at Metropole-City in Germany and Europe. We just visit cities where we have special places like at Vienna where we play at the Town Hall Square. There is no space anymore for animals and not really green fields. In the past  we did already play at Moskau, Amsterdam and Sevilla. So new cities in Europe are of course possible in the future. It is important that we get a special and central place/spot. Many cities want invite us. This year we are touring in Germany. For example in Hamburg or Munich.
What was the « click »/revelation of this decision ?  
As a circus you have to be open minded for everything especially for the feelings of the audience. Cause the Audience is our boss. When you feel that the audience does not approve of something then you have to change it. After my first hologram experience on a Roncalli-Cruiseship Show for TUI I had the wish to make something new also at the Circus.
What were the reactions of the audience? 
After the announcement not to use any animals at our shows we received more then 20.000 Emails and letters from all over the world. 95% positive feedback. When we started with our 300° Holographie the pictures and videos did go viral in Social Media. At More then 40 countries it was a News in the Media that Roncalli is the first circus to use holographic animals. In one year our show "Storyteller" hat more then 600.000 visitors.
Were you scared that people got disappointed, not to see animals « for real »?
Like I said the focus of Roncalli never has been on Animals. In 2018 we did ask our visitors: What do you expect of a Roncalli-Show? Here the Ranking:
1. Clowns

2. Acrobats

3. Poetic acts

4. Nostalgic and historic circus wagons

5. Good Live Music

6. Horses (2,7 %)
As a Circus or Circus-Director you have to listen to the audience but also to your heart and to trust you own gut. I was sure and focused to show the audience something new.
What do you think of the cities and even countries that decide to prohibit shows with animals ? 
It depends on the situation. You can't compare every circus. Each is different. So better to decide by situation and not in general. What should not be critical is populism.
How did the other circus react when they saw your new way of Circus?
Especially Circuses with the focus Animals Acts was not really happy about. But since las year I did call my Circus not anymore just Circus I call it now Circus-Theater Roncalli. Because we were and are now also more close with Theaters. 
Your holograms shows are kind of « sober », « animals » seem to stay in the middle. What do you imagine for the future : could they end up jumping in the audience, for example ?
We continue to work on the holography. So far, we were pioneers. We still have many ideas. We also changed a lot of outside the ring. We are the first circus that is going to be free of plastic. For example, our popcorn is only sold in paper bags instead of plastic bags. In addition , we now also offer vegan and vegetarian food.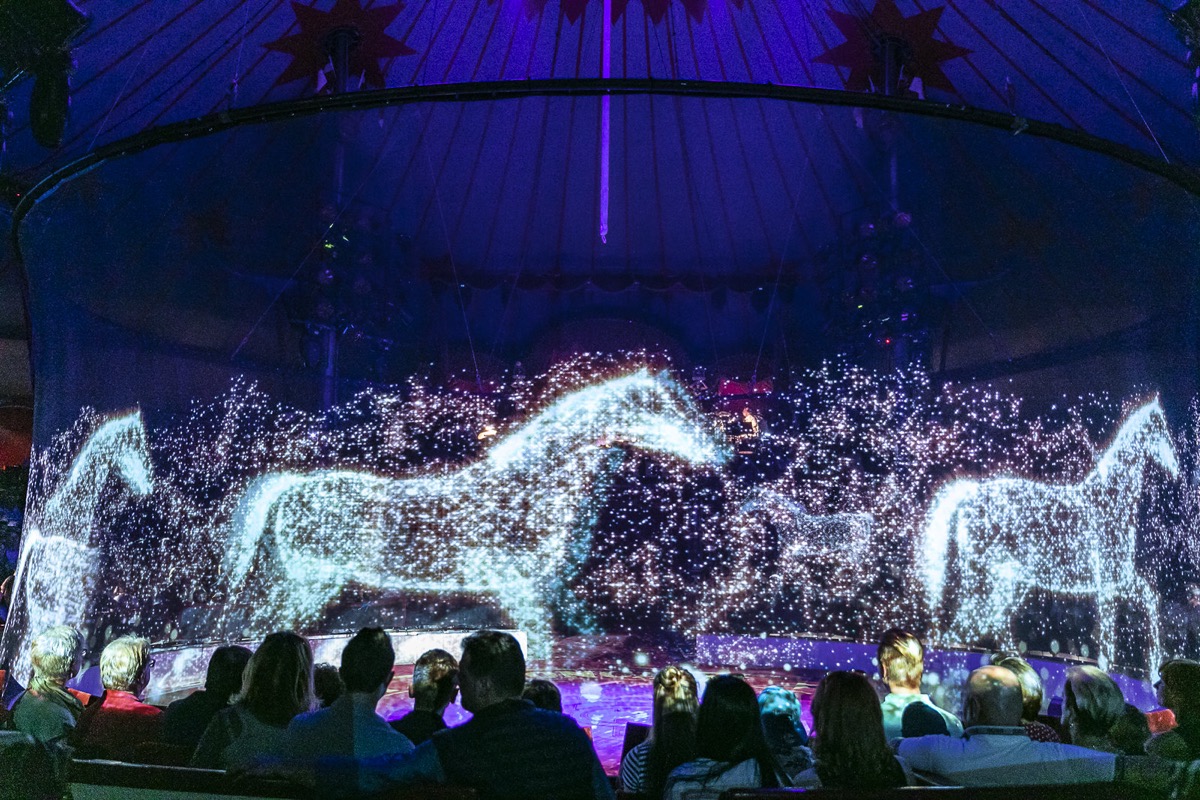 Can you tell us what are the big changes in your everyday organization, with this new shows ? 
Even the modern technology is quite intense in the care. Again, there may be technical problems. But so far everything works very well.
Does it also mean lots of money saving ?
Money was not the engine and the purpose of this change to use Holography.
-Bernhard Paul the Founder and Director of Circus-Theater Roncalli
Animal activists have been rallying against the use of animals for performative acts in circuses. There is plenty of proof to expose how these animals are beaten, starved, and confined to unsanitary quarters.
And then they are made to undergo cruel training and perform on very stressful schedules. To this effect, the UK government has brought in legislation to ban the use of wild animals in traveling circuses from 2020. Surely a precedent every country should follow!
All images belong to: Circus Roncalli
Now, you can follow Conscious Reminder on INSTAGRAM!
---
∼If you like our article, give Conscious Reminder a thumbs up, and help us spread LOVE & LIGHT!∼