The solar eclipse on 26 February 2017 is at 8 degrees Pisces.
The solar eclipse February 2017 astrology is dominated by the spiritual planet Neptune to bring hope of a brighter future. Good fortune and lasting happiness come from the stars in this region of the sky.
The February 2017 solar eclipse is just as happy and magical as the February 10 lunar eclipse. Acting in unison over coming months, this eclipse phase gives you an opportunity to turn your dreams into reality by drawing on your god given talents.
You can look forward to enduring results especially in relationships, so long as you remain humble and grateful to a higher power. Extravagance, greed or selfishness will see an end to your good fortune by the beginning of the next eclipse phase in August 2017.
New Moon Solar Eclipse Meaning
Like any new moon, a solar eclipse represents the end of one cycle and the beginning of a new cycle. The strongest and most important aspect in all of astrology is the Sun conjunct Moon. It means that all possibilities are on the table and you can rightly put yourself in the forefront of new plans for the future.
Old habits, behaviors and beliefs can be questioned as you search for new and inventive ways to make progress. This is the ideal time to make a fresh start by writing a to-do list on a blank sheet of paper.
This solar eclipse will compliment themes found in the February 10 lunar eclipse. Together they act as an eclipse phase which lasts until the eclipses of August 2017.
Solar Eclipse February 2017 Astrology
Solar eclipse February 2017 is located in Aquarius Constellation in the Sky. Due to precession of the equinoxes, however, it falls within the Pisces Sign in your Horoscope. At 08°12′ Pisces it will most strongly affect Pisces decan 1 but also those born in early Pisces decan 2.
One star and one planet close by provide more information about how this solar eclipse will shape your life over coming months. The closest is the star in the Water Bearer and just a few degrees further away is the mysterious blue planet Neptune.
Fixed star Skat at 09 ♓ 06 aligns with solar eclipse February 2017 giving good fortune and lasting happiness. It is also provides safety in a deluge. This is a star for good leaders in any adventurous field of activity, physical, economic or social. The name Skat means The Wish. This is a solar eclipse for making wishes come true. However, the promised good fortune will only endure if you have earned it.
With the Sun and the Moon, this star is especially good for relationships. You can make new and influential friends, get help and valuable gifts from friends, and gain the love of respectable women. The enhanced emotional sensitivity from Skat can make you psychic, but together with the associated criticism and persecution.
Solar Eclipse Neptune
Neptune shows how we rise above physical limitations. Spiritual development involves feeling more at one with people around you and with life in general. There is something scary about stepping into the unknown but the positive side of Neptune will be more noticeable following this solar eclipse.
A solar eclipse in general is a positive event giving an energy boost for a fresh start. The fixed star between the eclipse and Neptune is a very positive one, with wishes and dreams both being ruled by Neptune. The positive side of Neptune is also more prominent now that the fearful influence of Saturn square Neptune has passed.
Sun conjunct Neptune increases your sensitivity, intuition and empathy.  Setting some boundaries will allow you to enjoy a sense of togetherness with loved ones. You may benefit from joining or learning more about environmental, charity, social or community work and groups. Spiritual or occult subjects like astrology may be better understood through higher awareness. This is a good time to go to the movies or escape from reality through a fantasy novel.
Moon conjunct Neptune increases your emotionally sensitivity. With conscious self-awareness provided by the Sun, you can filter out any background noise and use your sensitivity for good. While some psychic impressions may be off the mark, your compassion and empathy are genuine. You can be of great assistance to the victimized and outcast. The emotional comfort you offer has a healing quality.
The influence of the Sun and Moon with Neptune gives great potential for psychic awareness. The influence of the fixed star makes it even more likely that you will experience some kind of psychic activity following the February 28 solar eclipse.
Solar Eclipse Minor Aspects
The conjunction of Sun, Moon, Neptune and fixed star is definitely a harmonious and beneficial one. However, your fortune and psychic talents are at risk of turning against you because of the big opposition in the sky, shown by the solid red line in the solar eclipse February 2017 astrology chart above.
Jupiter opposite Uranus greatly increases your need for personal freedom and excitement. You will feel a strong urge to react, or rebel against anything that is stopping you from having fun and doing what you want. There is likely to be particular sudden event that releases your built up tension and leads to a major change in circumstances.
Not only is this opposition happening at the same time as the solar eclipse, it is directly linked in space by the 8th harmonic aspects of the 45° semisquare and the 135° sesquisquare. These minor aspects are like an itch that needs scratching, or a weaker version of the square aspect.
Sun Sesquisquare Jupiter (Sun square Jupiter) is like a double-edged sword. It can make you feel extremely confident, proud, lucky and optimistic. The manner in which you express your exuberance is critical in determining the final result, which can range from good fortune and success, to loss and embarrassment. The best way to handle it is with respect, moderation and discipline.
Sun semisquare Uranus (Sun square Uranus) requires open-mindedness and flexibility as you enter a stage of uncertainty. You may start to feel uneasy and anxious as you sense impending change. A buildup of nervous tension can result in unpredictable behavior on your part which can lead to abruptness, rapid changes in direction and even accidents.
Adding Mars conjunct Uranus to the equation makes these minor aspects even more like squares. This increases the danger of over reaction, rebellion and greed spoiling the original benefits from Neptune eclipse on the happy fixed star.
Sun semisquare Mars (Sun square Mars) can lead to tests of character from your competitors or enemies. The boss or men in general may be looking to assert their power, leading to ego conflicts. You may already be irritable and impatience, likely to react to any provocation or threats with aggression. Do not go on the offensive because your strength and courage are at a low point.
Solar Eclipse February 2017 Summary
You can expect to feel extremely sensitive to the extent of having visions or premonitions following the February 2017 solar eclipse. You should notice more compassion and generosity around you compared to previous months and last year in particular. Increasing wealth and happiness can be found by following a more spiritual path and being inclusive of others.
This solar eclipse acts as a companion to the February 2017 lunar eclipse. The spiritual nature of the solar eclipse blends perfectly with the mystical lunar eclipse. The many talents provided by the previous lunar eclipse can now be put to use following your hopes and dreams. The good fortune and happiness found in following your dreams has the potential to be substantial and enduring, especially for relationships.
Remaining true to your morals and belief is vitally important once your hopes and dreams are realized. Any good fortune is intrinsically tied to your spiritual development. Excessive lust, greed or selfishness will see any benefits erased. Worse than that, the interconnectedness highlighted by the solar eclipse February 2017 astrology means that your loved ones would also be adversely affected by the error of your ways.
Solar Eclipse New Moon February 2017 Visibility
On the morning of Sunday 26 February 2017 the solar eclipse will be visible from south America. It then ends in south-western Africa at sunset. Being an annular solar eclipse, not all of the Sun will be darkened. In this type of partial eclipse, the apparent diameter of the Moon is smaller than the Sun's, leaving a ring of light around the eclipsed Sun.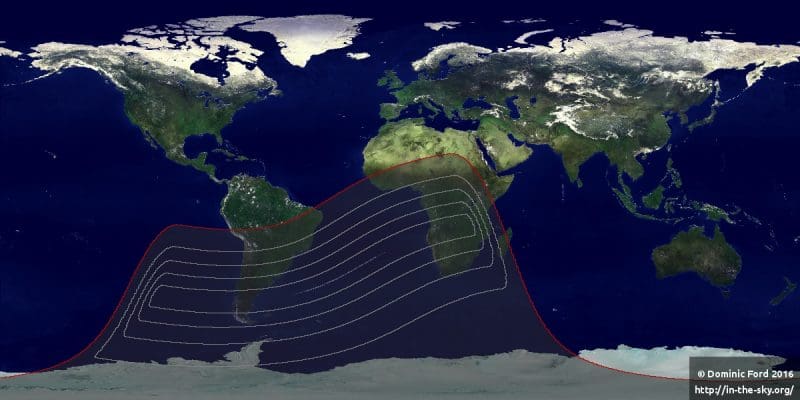 Previous Moon Phase: Lunar Eclipse 10 February 2017
Next Moon Phase: Full Moon 12 March 2017
Solar Eclipse February 2017 Times and Dates:
Los Angeles                 February 26 – 6:58 am
New York                    February 26 – 9:58 am
London                       February 26 – 2:58 pm
Delhi                          February 26 – 8:28 pm
Sydney                      February 27 – 0:58 am
---
∼If you like our article, give Conscious Reminder a thumbs up, and help us spread LOVE & LIGHT!∼